It's pretty obvious that when you are pregnant, the body goes into a big change. Not only does your weight get into the scene, but the image you are reflecting as a proud expectant mom delivers in the way you dress.
At first trimester of pregnancy, you may still have to wear your jeans and shirts and some skirts the way you like them to be especially if you are the type of person who does not gain much weight like I do. But when you reach your second trimester of pregnancy, things do change for a fact that the tummy started to become obvious and you would really want to go out and buy a maternity dress that suits your size.
Jet Black Stretchable Capri Pants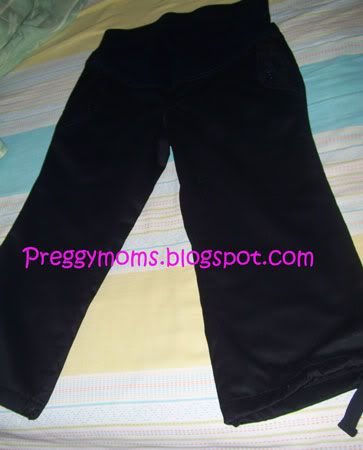 See the soft comfy pouch of the capri pants which protects your belly

I have been in that same boats like most of expectant mom. I started to ask hubby to buy me something comfortable to wear since I cannot fit my jeans anymore and it will be a no-no to wear tight clothing too. The first thing I bought was three-fourths type of blouses which are bigger than my regular size. If before I used to wear small sizes, I added an extra which is medium size to make me feel comfortable. About the pants, the first that I have bought was a chiffon pants that is stretchable and has a soft girdle not to tighten my belly but to protect it.
Now that I am nearing my third trimester, I ask again hubby to buy me stretchable pants since my chiffon pants is colored pink and green and I am having a difficult time what color of blouse to match. So I wanted something which is just black since it will go well with any other types of color.
We went to the nearest mall to our place and were happy to find black stretchable Capri pants which fitted me well and it was really comfy to wear. Luckily, it was on sale so instead of Rs999 price, hubby paid only Rs 910 which we saved Rs89. So this wonderful stretchable Capri black jet pants was only $20.16.
I feel like I am a mother kangaroo whenever I wear it. Why? It's because that my baby was inside the pouch that the pant was designed for. It feels safer yet when I washed it once, I feel it tightens a bit although still I can wear of course.
Some women don't need to buy maternity clothes especially if they already reached their 7th to 8th month of pregnancy. It is because that only for a few more months, you will not be able to wear it again, unless of course you got pregnant again. I don't mind if I have to buy some more for this month, but I guess I would go for some blouse and not for pants anymore. Things to buy might also be redirected to babies needs instead of mommies needs. I still feel so happy to wear my maternity clothes; after all it was my very first.