The most easiest to use is the online due date calendar which will give you dates of how many weeks are you pregnant, what are the expectations you need to observe on that particular week and so much more.
Even if I haven't visited my OB for knowing my due date, I already know because I have research it online. Some sites I am referring to were fortunebaby.com, mybirthcare.com, babycenter.in, amazing pregnancy.com and so much more when you type it on Google.
Courtesy of Fortunebaby(dot)com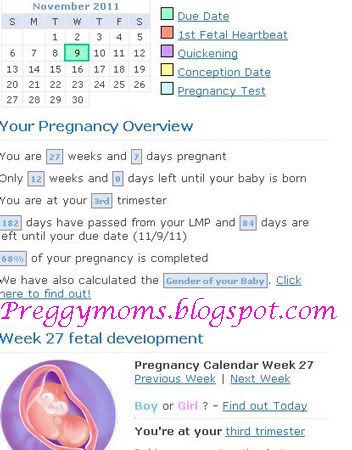 Most of these sites would ask you the first date of your last menstruation period. What I always like is when it tells the week and days that I am in, how many weeks and days left before I give birth, percentage of my pregnancy, and the report about fetal development.
Due dates always differ from your OB, to the person who gives impression on your Ultrasound and to what you consulted online. But what is important is to be prepared during your delivery month. See to it that you follow what the doctor tells you to take from vitamins to regular diets and planned exercises.
Since gender prediction is prohibited here in India, I sometimes like to play around free online applications that says baby's gender prediction calculator. Well some Chinese prediction calculator is there for fun. I only don't take it seriously, before I was really disappointed that I won't be able to peek if my baby would be a boy or a girl because of ultrasound check up. But anyway, what I just do pray for is that both I and baby will be safe and healthy as always.
Every week passed, I check my online due date calculator and read what are my baby's development, the size and weight and information about my pregnancy status. These online tools are really handy for moms to be and it helps me get additional information in advance that my doctor does not inform me. But I am not saying not to consult your OB anymore which is a no-no.
Every pregnant mom is eager to know her weekly status or stages of pregnancy. It gives an insight on what to do, what not to do or avoid and things to prepare during pregnancy.